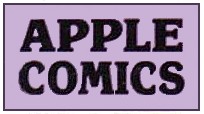 Name: Apple Comics AKA Apple Press (American comics corporation).
Personal dates: Founded in 1986 by Michael Catron (1954-). Stopped in 1994.
Other creations: Too numerous to mention here. Please look under Apple in the Creators section.
Successors: None.
Comments: The corporation mainly published adult series in a variety of themes such as horror, sex, and war.