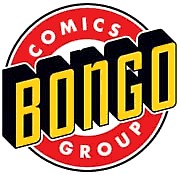 Name: Bongo Comics Group (American comics corporation).
Personal dates: Founded in 1993 by Matt Groening, Bill Morrison, Cindy Vance, and Steve Vance. Ongoing.
Other creations: Too numerous to mention here. Please look under Bongo in the Creators section.
Successors: None.
Comments: The corporation mostly publishes new material relating to the American sitcom series The Simpsons.