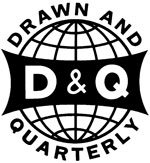 Name: Drawn & Quarterly (Canadian comics corporation).
Personal dates: Founded in 1990 by Christopher 'Chris' Oliveros (1966-). Ongoing.
Other creations: Too numerous to mention here. Please look under Drawn in the Creators section.
Successors: None.
Comments: The corporation publishes in several good quality comic book genres, which is also reflected in the classy quality design, paper, and printing.