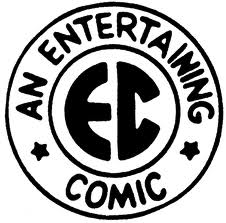 Name: EC Comics (American comics corporation).
Personal dates: Founded in 1944 by Maxwell 'Max' Charles Gaines (1894-1947) and later continued by his son William 'Bill' Gaines (1922-1992). Officially stopped as an independent company in 1956 but continued under the auspices of DC Comics.
Other creations: Too numerous to mention here. Please look under EC in the Creators section.
Successors: None.
Comments: Initially, EC specialized in child-oriented and educational stories (the company started as Entertaining Comics), but switched to horror, satire, and science fiction.