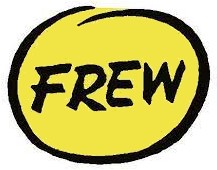 Name: FREW Publications Pty. Ltd.* (Australian comics corporation).
Personal dates: Founded in 1948 by Ron Forsyth, Lawford Richardson, Jack Eisen, and Peter Watson. Ongoing.
Other creations: Too numerous to mention here. Please look under FREW in the Creators section.
Successors: None.
Comments: The publisher name is an acronym formed by the first letters in the founders' surnames.
* Also known by several other names such as Blue Diamond, Crestwood, M. Rubin, and Tricho.